Join us for a panel hosted by the CUNY Adjunct Project on the 'The New York City Graduate Student Worker Struggle: Victories, Challenges, and Next Steps'.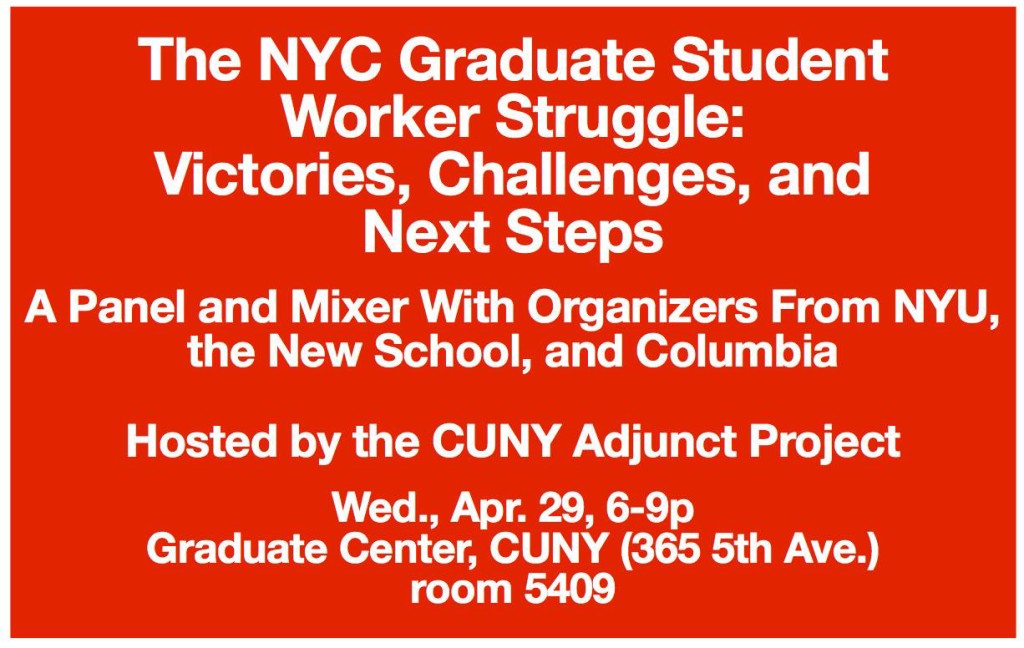 Following NYU's Graduate Student Organizing Committee's (GSOC) successful contract campaign that concluded this semester, and, closely after, the National Labor Relations Board's reinstatement of Graduate Workers of Columbia's (GWC) and the Student Employees of the New School's (SENS) petitions for union recognition, join us for this panel discussion with representatives of all three unions at which they'll offer reflection on their organizing campaigns: the strategies and tactics, successes and challenges, and next steps.
Featuring:
Natasha Raheja, NYU/GSOC/AWDU
Andrea Crow, Columbia/GWC
Oliver Picek, the New School/SENS
Dave Haack, the New School
Moderated by Sean M. Kennedy, Graduate Center, CUNY/PSC/Adjunct Project
***And stick around after for a reception/mixer at which organizers and supporters from the different unions and schools, including the GC, can meet one another and talk informally. Beer, wine, and snacks!***
Check out their Facebook event for more information here.