Our Origins: One-on-One Organizing and Open Meetings
In January 2014, graduate student workers at Columbia started talking about unionizing—to have a say in decisions that affect our work at the university and to improve the conditions of our labor. A few months earlier, after eight years of sustained organizing, grad workers at New York University (NYU) had finally won back recognition of their union, Graduate Student Organizing Committee-UAW (GSOC-UAW), and we were excited and energized by their victory. What started as informal conversations among peers within our own departments began to coalesce into a movement when we realized that our colleagues across campus were having similar conversations.  Grad student workers reached out to UAW representatives, who had been involved with past organizing campaigns at Columbia and the current campaign at NYU, as well as at other universities across the US. We held an open meeting, and grad workers from numerous departments attended.

We soon discovered that grassroots support for unionization ran much deeper and wider. We started having face-to-face conversations across the Morningside and Medical campuses, and word spread quickly: by May we held a packed town-hall-style meeting, with grad workers from more than 30 departments across the sciences, medical campus, humanities, and social sciences in attendance. Sustained organizing continued through the summer. By the end of June 2014, we had active participants in virtually every department at Columbia. In the dead of July, we held another packed town hall, this time at the Medical Center campus.
The Card Drive: Majority Support for a Union
In the fall of 2014, Graduate Workers of Columbia (GWC-UAW) held a card drive in order to demonstrate that a majority of graduate student workers favored unionization.  Over 1700 graduate workers signed cards by Thanksgiving, indicating their support for GWC-UAW. These workers came from the Graduate School of Arts and Sciences (GSAS); Mailman School of Public Health; the Columbia University Medical Center (CUMC); the Columbia School of Engineering and Applied Sciences (SEAS); the School for Social Work; the Graduate School for Architecture, Planning, and Preservation (GSAPP); the Business School; the School of Journalism; the School of Professional Studies; the Law School; the School of the Arts; and the School of International & Public Affairs (SIPA).

On December 5, 2014, 200 graduate workers gathered on the steps of Low Library, surrounding Alma Mater, to appeal for voluntary recognition of GWC-UAW from Columbia University. A delegation of workers entered Low to deliver a formal letter to the administration to this effect. Graduate workers hoped that the Columbia administration would follow New York University's precedent, in which the administration had signed a voluntary election and neutrality agreement with the union in late 2013. The Columbia administration had the opportunity to move forward and respect our democratic card drive but decided not to reply, so on December 12, we filed a petition with the National Labor Relations Board (NLRB), the federal agency that adjudicates labor law. Instead of directly responding to us, the graduate workers, the Columbia administration used university resources to hire an expensive anti-labor law firm, Proskauer Rose, to fight our petition.
The Columbia Decision: Fighting for the Legal Right to Collective Bargaining at the NLRB
Our original petition to the NLRB was dismissed in February 2015 by the regional office, which did not have jurisdiction to overturn the 2004 Brown ruling. According to Brown, a partisan Bush-era decision, graduate student workers at private universities did not have the right to collective bargaining, even though our colleagues at more than 60 public universities across the US enjoy that right and have bargained union contracts for decades. We appealed to the federal NLRB in Washington, DC. On March 13, the federal board instructed the New York board to hear our petition and begin collecting evidence about our working conditions. Regional NLRB hearings concluded in March 2015.  On October 23, 2015, the NLRB regional director again dismissed our petition, based on Brown, but wrote a decision suggesting strongly that the evidence from the hearings demonstrated that RAs and TAs were "employees."  On December 23, 2015 the Board issued an order granting review of our case to consider whether or not to overturn Brown.
Huge Victory at the NLRB!

On August 23, 2016, the Board issued a historic decision overturning Brown and restoring our statutory right to collective bargaining. This decision not only enabled the NLRB to schedule an election on unionization for RAs and TAs at Columbia, but also set a precedent for RAs and TAs at private universities across the United States to form unions and engage in collective bargaining. Since the decision graduate student workers at The New School, Harvard, Brown, Tufts, Brandeis, Boston College, Yale, American, Georgetown, Loyola at Chicago, and the University of Chicago have all won their union elections.
The Ground Game: Organizing for and Winning Improvements on Campus
Throughout 2015 and 2016, as we waged our legal battle at the NLRB to restore union rights, GWC-UAW remained active on the ground and dedicated to continuing the grassroots organizing that has made our campaign successful.  In the process, GWC-UAW has launched a number of initiatives and worked alongside other organizations, such as the Graduate Student Advisory Council (now the Arts and Sciences Graduate Council, or ASGC), to win improvements to pay, fee waivers and family benefits.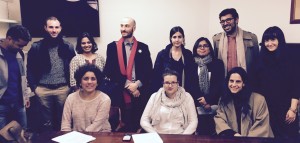 The GWC-UAW International Students Working Group has been particularly active and effective.  During 2015 and 2016, this working group sponsored important events for international students and actively and successfully campaigned for as number of improvements at Columbia.  For example, the International Students Working Group has:
GWC-UAW also launched a campaign and petition advocating for increased federal funding of scientific research, mobilizing nearly 2000 signatures and a half dozen professional academic societies in pushing the 2016 presidential candidates to prioritize research funding. 
Finally, GWC-UAW has shown that Columbia can, and does, do better when we join together across campus. GWC-UAW organizing helped move Columbia to promise four years of pay increases, enhance family benefits and expand them to more programs, and win more years of funding in programs that lagged behind the best practices across campus. 
Political Outreach: Support from our Allies among Elected and Community Leaders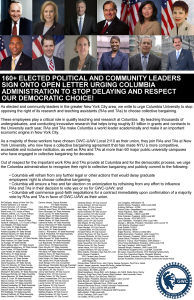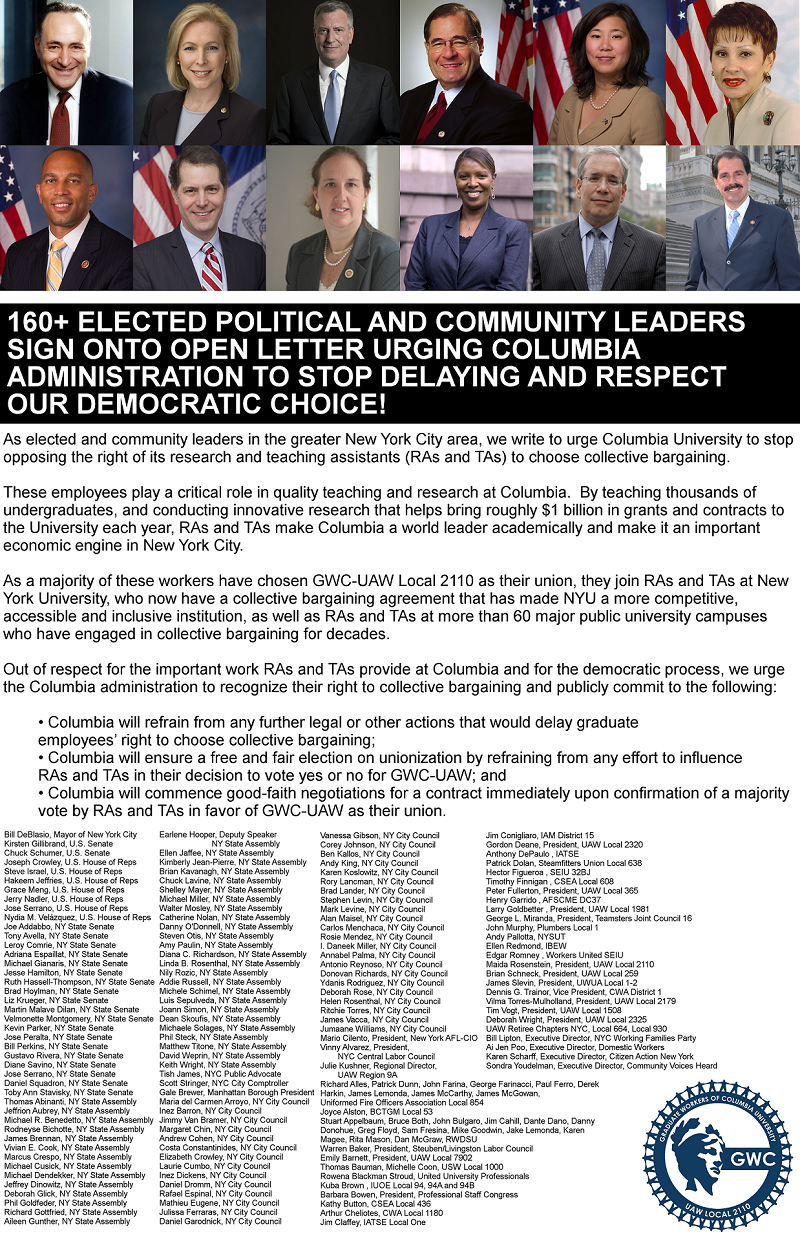 Along the way, GWC-UAW has also received an outpouring of support from elected and community leaders who have called on Columbia to do the right thing and respect our democratic right to choose unionization.  In December 2015, hundreds of GWC-UAW supporters rallied and delivered an open letter signed by more than 160 elected and community leaders urging Columbia to "Respect our Democratic Choice."  More recently, on September September 26, 2016, dozens of Congressional leaders from across the US signed a statement applauding the NLRB decision and urging private university administrators "to ensure a climate that ensures free and fair elections."  GWC-UAW also received a boost of support from US Senator Bernie Sanders and NYC Mayor Bill De Blasio, Manhattan Borough President Gale Brewer, Senator Chuck Schumer, Senator Kirsten Gillibrand, Congressman Jerry Nadler, Congresswoman Grace Meng, City Councilman Mark Levine, and City Councilman Corey Johnson.
Union Election: GWC Wins with a 72% Yes Vote
The NLRB scheduled our union election for December 7 and 8, 2016. GWC-UAW held town halls throughout fall 2016, as well as a major forum on how unionization can enhance the ability to take on sexual harassment. The NLRB decision also set the parameters for who could vote in our election. Current TAs and RAs, along with enrolled graduate students who had held those roles within the past calendar year, were eligible to vote, producing a unit of more than 3000 members.
Across Columbia's campuses in Morningside Heights, the Medical Center, and Lamont Laboratories, we made voting plans, organized voting parties, and rallied our co-workers to get out the vote. Columbia's aggressive anti-union campaign, which left hundreds of working graduate students off the Excelsior list (the list of eligible voters), meant that more than 600 workers had to file contested ballots. On December 9, graduate workers and UAW staff members watched the NLRB count the ballots in person: that afternoon, the NLRB declared the GWC victorious with 1602 yes votes and 623 no votes.
Waiting at the Bargaining Table: Fighting Back when Columbia Contests our Democratic Election
The university administration responded to our historic union victory with their usual tactic: legal delays. Columbia aligned itself with the Trump presidency, filing spurious objections to the conduct of our election at both the local and federal levels of the NLRB in the hopes that Trump would appoint anti-labor NLRB members who would reject our election outcome. 
While the Columbia administration spent 2017 paying anti-union lawyers to try to overturn our election results, GWC moved forward with its commitment to democratic representation for graduate workers at Columbia. We voted in our first bargaining committee (BC), ten graduate workers elected from across the humanities and social scenes, the natural sciences, engineering, the medical campus, and Columbia's many professional schools. More than 2500 grad workers completed bargaining surveys to let the BC know what we want from our first contract with Columbia. Using this information, the BC wrote our initial bargaining goals—a bold statement of the concrete changes needed to make Columbia a safe and just workplace that fully and fairly compensates its graduate employees. In the final week of April, the GWC membership ratified these goals with a 91% yes vote.
Our union has always worked through a combination of representative democracy and direct action. Alongside our legal fight against Columbia's election objections and our democratic ratification of the bargaining goals, we continued to organize and demonstrate our support for a union on the ground. In spring 2017, more than 2,000 workers and 30,000 allies signed a petition calling on Columbia to drop their objections to our election and bargain with our union. In the fall, we held a Workers Forum, where grad workers talked to colleagues, community allies, and local politicians about the issues we want to address in a contract, from unsafe working conditions in the Black Building to sexual harassment.
Certification: NLRB Declares GWC-UAW Protected under Labor Law
On December 16, 2017, the NLRB dismissed the university administration's objections to our election and certified GWC-UAW as a union. NLRB certification meant that the university administration no longer had any legal avenue to delay bargaining with our union, and it also protected union members under the National Labor Relations Act, which gives union members the right to strike. Our bargaining committee, working with UAW Local 2110 president Maida Rosenstein, set a deadline in January 2018 for the administration to begin bargaining with GWC. The deadline passed with no response from Columbia. On January 30, 2018, Columbia Provost John Coatsworth emailed the Columbia community to announce the university administration's decision "not to engage in bargaining with union representatives." Coatsworth continued to argue that graduate workers are not employees, in direct contradiction to the NLRB's Columbia decision in 2016 and their certification of our union in 2017. While it was disappointing and frustrating to see Provost Coatsworth openly deny the work that thousands of graduate employees do in teaching and research at Columbia every day, it was not surprising—his letter confirmed that President Bollinger and the university administration would continue to align themselves with Trump's anti-labor, anti-union stance.
Strike!: 1500 Grad Workers Join the Picket Line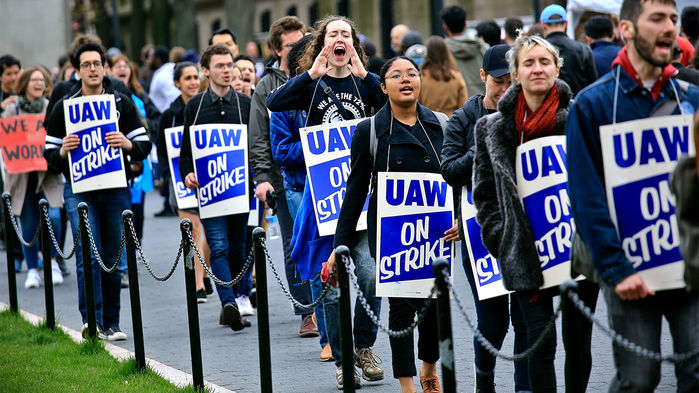 While we waited for a response from the university to our union certification in January 2018, we also held a series of trainings to prepare for a strike authorization vote. At these trainings throughout the early months of 2018, members of over 90 percent of Columbia departments committed to organizing their colleagues to vote to authorize a strike in the event that the university administration declined to bargain with us. On February 12, 2018, we published our open letter declaring our plan to vote for a strike.
From April 2 to 13, 2018, we held a strike authorization vote across Columbia's campuses, with opportunities for graduate workers who had signed a card in support of the union to vote at the Morningside, CUMC, and Lamont campuses, and online. During the vote, organizers talked to faculty and undergraduates to ask for support or neutrality during our strike. Both faculty and undergrads alike demonstrated their belief in our democratic right to strike. 1968 grad workers voted to authorize the bargaining committee to call strikes to bring Columbia to the bargaining table. After thousands of one-on-one organizing conversations and hours of meetings with the organizing committee, the BC called a week-long strike starting on April 24, 2018.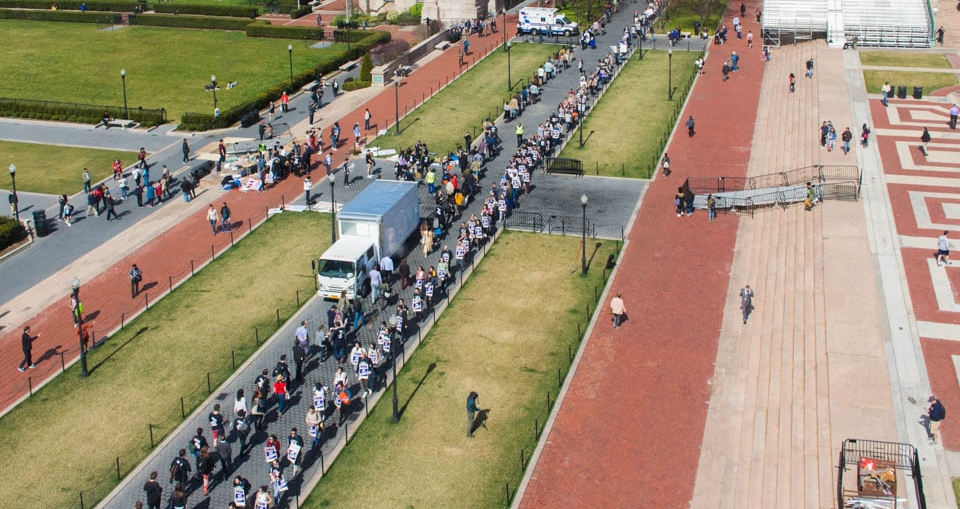 At 10:00 am on April 24, graduate workers from across Columbia's campuses converged on the sundial in College Walk to strike, withholding their labor in protest of Columbia's illegal refusal to bargain with our union. Throughout the last week of classes of the spring semester, more than 1,500 RAs, TAs, and instructor marched on the picket line for four hours a day, sharing baked goods, sunscreen, umbrellas, and drums, and striking from the twenty hours of work per week that Columbia pays us to do for the university.
We saw incredible solidarity across Columbia's campus and throughout New York City. Support staff and other members of UAW Local 2110, along with undergraduates and faculty, joined us on the picket line. An average of 700 students a day had their classes moved off-campus; hundreds more classes, taught by graduate instructors and TAs, did not meet. Hundreds of RAs struck their normal work time. Unions across New York City—including Service Employees International Union 1199, Transport Workers United Local 241, Laborers Local 79, and Communications Workers of America—as well as workers from NYU, Yale, Princeton, Fordham, The New School, and CUNY marched with us. Teamsters truck drivers and Verizon workers refused to cross our picket line, many of them turning their delivery trucks around at Columbia's loading docks. Politicians and political candidates—from New York City Council members to Cynthia Nixon to the President of Ireland—spoke with graduate workers and condemned President Bollinger for refusing to bargain with us.
When the strike ended at midnight on April 30, we knew we weren't done fighting—Columbia still had not agreed to come to the bargaining table. Yet just days after our strike, Harvard and Brown announced they would bargain with their graduate unions, demonstrating that the Columbia administration is an anomaly for refusing to bargain while its peer institutions respected graduate workers' right to form unions and negotiate fair contracts.
Our Future: A Fair Contract for Columbia's Graduate Workers
Organizing a union never stops.
---
A Brief History of Graduate Student Organizing in NYC
1998 Grad student workers at NYU start organizing and a majority chooses to be represented by GSOC-UAW Local 2110.
2000 GSOC-UAW wins a landmark National Labor Relations Board (NLRB) ruling, affirming that grad student workers have bargaining rights, and a majority vote for GSOC/UAW as a union.
2002 Grad student workers at NYU ratify their first contract, including a 38% increase to minimum stipends, workload protection, and paid health care for the first time, among other improvements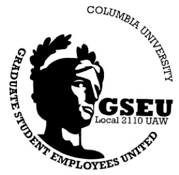 2001-2002 Grad student workers at Brown, Tufts, Penn, and Columbia organize and have elections run by the regional NLRB. However, their ballots are impounded because universities—in a coordinated anti-union strategy—appeal regional labor board decisions to the NLRB.
2004 The NLRB, comprising new appointments following a change in administration, rules on the Brown University case, overturning the original NYU decision and stripping grad student workers, from private universities, of their right to collective bargaining. All four cases are dismissed and all ballots destroyed.
2005 When the first GSOC/UAW contract expires, NYU uses the Brown decision to withdraw recognition of the union and refuses to bargain a second contract.
2013 After eight years of sustained organizing, majority support, and major political and community pressure, NYU grad student workers convince the NYU administration to agree to a fair election in which 98.4% of grad student workers vote in favor of unionization.
2014 Grad student workers increase and expand efforts to organize unions at Columbia, the University of Connecticut, The New School, Harvard, and Cornell, as well as revived efforts at Yale. In addition to graduate workers, there are increased efforts by adjunct faculty and university athletes to organize unions.
On December 12, 2014, based on majority support from RAs and TAs, GWC-UAW at Columbia SENS-UAW at The New School file petitions with the NLRB to overturn Brown and restore the right to collective bargaining.
2015 The regional NLRB holds hearings on the Columbia and The New School cases.
RAs and TAs at NYU vote overwhelmingly to ratify their (second) first contract, which makes important improvements to pay, benefits and workplace rights.
2016 The NLRB rules on the GWC-UAW petition at Columbia and overturns Brown, restoring the right to collective bargaining for RAs and TAs at private universities.