March has been an exciting month for GWC-UAW! We've got a lot of great news to report, plus some terrific events for you to mark on your calendars.
In this email (details below)
NLRB HEARINGS TO COMMENCE
TENTATIVE AGREEMENT AT NYU SHOWS COLLECTIVE BARGAINING WORKS
TC STUDENTS AND SPECTATOR SUPPORT OUR CAMPAIGN
MEDIA COVERAGE OF OUR CAMPAIGN
UPCOMING EVENTS
NLRB Hearings to Commence
On March 13, the National Labor Relations Board in Washington, DC ruled unanimously to order hearings in our case. This is tremendous news, as it means that we can now argue for our collective bargaining rights – and those of graduate workers at private universities across the country – in hearings before the NLRB Regional Director. We still anticipate challenges ahead; the administration, after all, has hired the expensive and renowned anti-union law firm, Proskauer Rose, to fight us.  The firm will surely to do everything they can to slow down this process,. But we are confident we have the law on our side – not to mention the democratic will of Columbia's grad RAs and TAs. – and we can't wait to make our case! Hearings will commence on March 31.
Keep an eye on your email for developments in the case. For an overview of the NLRB process and GWC-UAW's position, check out this new NLRB FAQ page on our website.
NYU GSOC's New Contract Shows: Collective Bargaining Works!
Just before spring break, NYU's Graduate Student Organizing Committee/UAW secured a fantastic tentative agreement for grad workers at NYU. The agreement's historic gains – praised by both GSOC and the administration – include a signing bonus (meaning a grad worker's compensation will increase by at least 4% this year), guaranteed annual raises in future years, paid health benefits for hundreds who do not currently receive it, a new fully-funded dental benefit, and important improvements for grad workers with families and children. Funded PhD students who teach two semesters will receive roughly $36,600 in total compensation next year, a result of 17 years of organizing at NYU! The spectacular success of our colleagues just down the road is powerful evidence that collective bargaining works at private universities.
Teachers College Student Senate and the Columbia Spectator Endorse Our Union
These past few weeks have seen two exciting endorsements for the GWC-UAW campaign. First, on February 27, the Teachers College Student Senate voted unanimously to endorse our unionization drive and to urge the administration to develop a fair and expedient process to recognize our majority. Then on March 5, the editorial board of the Columbia Spectator published an editorial endorsing our union. We're pleased It is amazing to receive official recognition and encouragement from of student governments and other campus organizations.
Media Roundup: GWC-UAW in the New York Times!
The Spectator wasn't the only publication to write about GWC-UAW this past month. On March 3, the New York Times ran a detailed story about our fight for collective bargaining rights – if you haven't read it yet, check it out!
Also worth a read is this great op-ed by GWC organizer and GSAC member Andrea Crow, about the many things grad organizations can accomplish when we work together. Even without official recognition from the university, grad workers can achieve a lot when we're organized, as GSAS's recent announcements of increases to basic stipends, parental leave, and child care benefits demonstrate.  With collective bargaining, we could do even more.
You might also have noticed a recent increase in press coverage of our campaign in Capital New York, The Chronicle of Higher Education, Inside Higher Ed, The Spectator, Blue and White Magazine, and The Eye Magazine, among other publications. For the complete list, check out the press page of our website.
Upcoming Events and Opportunities to Get Involved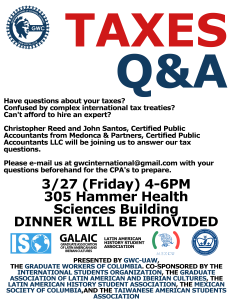 Taxes Q&A
Friday, March 27, 1-3pm (140 Horace Mann, Teachers College) and 5-7pm (CUMC, 305 Hammer Health Sciences Building)
On Monday, March 23rd,GWC-UAW and a number of international grad groups joined forces to bring in an immigration attorney to discuss student visa and employment issues at both the Morningside and Columbia University Medical Center campuses. We'll be following them up with a pair of tax workshops on Friday, March 27th. Check out the Facebook event for more details, and email us at gwcinternational@gmail.com with any tax questions you'd like to see addressed.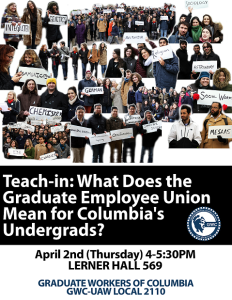 Undergraduate Teach-In
Thursday, April 2, 4-5:30, Lerner Hall 569
Next week, Columbia's undergraduates will host a teach-in on the graduate student union. We'll share what a union means for us, to undergraduate education, and to the university as a whole. All graduate students are encouraged to attend. If you would like to be involved in planning the event, or want to learn more, email columbiagradunion@gmail.com. And follow our Facebook event.
International Students Working Group
International students in GWC meet every Wednesday at noon in Brownies, the café in the basement of Avery – all international graduate students are welcome! Sign the petition to secure more equitable summer research and language summer funding for international students in the humanities and the social sciences!  Check out pictures here from our recent seminar on visa and immigration issues.
Weekly Organizing Meetings
GWC organizers meet every Wednesday from 7 to 8:30pm to plan the week ahead. Meetings alternate between the Morningside and CUMC campuses. Fill out this form to be added to our weekly meetings email list.