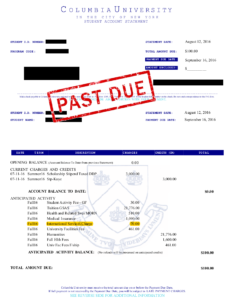 Some international students have noticed that Columbia still appears to be charging us for the "International Services Fee," even though Provost Coatsworth and Dean of Engineering Boyce told us in May that this fee would be "covered" as of Fall 2016 for fully-funded doctoral students.
We assume this is another error or oversight on the part of the University. Let's send a quick, strong message to Columbia to address the problem, so that hundreds of us do not have to inquire individually and waste precious time away from our work.
If you want to show your support, sign here to tell Columbia to keep its promise to waive the international student fee.
We will keep you posted if we learn more.
Come to our CUMC Town Hall on Thursday, September 22nd, 6-8PM in Hammer Health Sciences Building Room 305.
Thank you for taking a moment to help,
GWC-UAW International Student Working Group