As momentum continues to grow in the academic labor movement, GWC-UAW joined graduate workers from across the Northeast in a huge Commencement rally at Yale on Monday urging the administration to recognize and bargain with their graduate employees'' union, Local 33 – UNITE HERE, whose election victory has been certified by the regional National Labor Relations Board despite administrative stonewalling.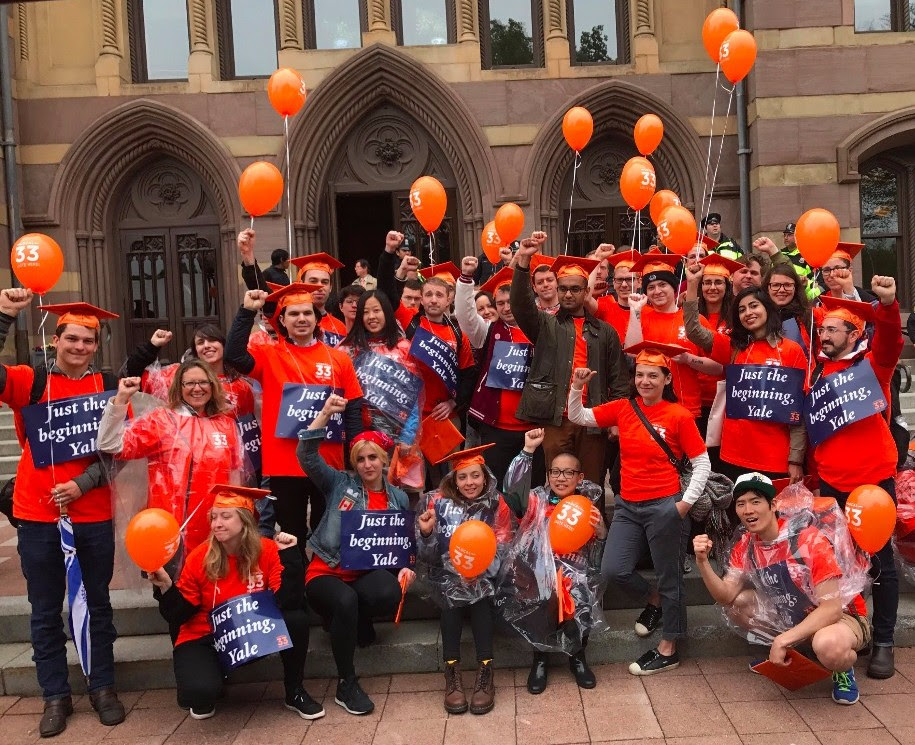 Thank you to everyone who took the time to make this a successful action! Talking to other grad worker organizers was a powerful reminder that our movement has grown dramatically since we won last August's landmark National Labor Relations Board (NLRB) decision, restoring private-university grad workers' union rights. Just last week, the Boston College Graduate Employees Union – United Auto Workers (BCGEU-UAW) won recognition as workers from the NLRB; they will now work with the board to schedule their union election.  As well, administrators at several institutions, including Tufts University and American University, have indicated they will respect the results of recent NLRB elections and bargain with graduate worker unions. These are huge steps forward for the academic labor movement!
Meanwhile, however, administrators at some of the nation's most prestigious universities are scrambling to put legal hurdles in the way of RAs and TAs exercising their legal right to democratic voice through collective bargaining. As you know, Columbia has refused to drop its effort to nullify the results of our overwhelming 1602-623 vote for GWC-UAW Local 2110 as our union, even though the regional NLRB recommended rejecting the administration's objections "in their entirety." We are hopeful that the national board will soon act to uphold our election and certify our union. Here are some updates from other campaigns across the country:
At the New School, the administration – even though it now admits graduate workers most likely won their recent NLRB election – is sticking to its strategy of pre-emptively challenging all ballots, blocking the vote count. Organizers with Student Employees of the New School (SENS-UAW) are calling on the university to "Free the Vote – Count The Ballot!"

At the University of Chicago, Graduate Students United delivered a majority of authorization cards to the NLRB two weeks ago, seeking their own election.  According to reports from the in-progress board hearings, the University's lawyers – the same firm retained by Columbia – have attacked the Columbia decision, dismissed the idea that RAs create value for the university, and suggested that research assistants should be denied their rights as employees because "most of their experiments fail."

At Harvard, the regional NLRB found that the university failed to provide an accurate voter eligibility list, and ordered a new election, if necessary. Like Columbia's, the Harvard administration has appealed in the hopes of stalling democracy.
In short, we are not alone in facing an administration that refuses to accept that we are workers. Indeed, many grad worker unions nationwide, who have won real gains for their members over the past several decades, initially faced similar opposition from their employers. Columbia's administrators may expect us to sit the summer out, just as they clearly expect that their delay tactics will buy time for Donald Trump's forthcoming labor appointees to again strip away our rights. They are mistaken: the academic labor movement has only gained momentum since last November's presidential election, and grad workers at Columbia are not about to give up on three years of organizing and a democratic mandate to fight for a fair contract and a seat at the table.
So, while we will continue to battle Columbia's legal tactics at the NLRB, our real power comes from outside the courtroom. If you're in the city this summer and would like to get involved, please fill out this form and we will be in touch!