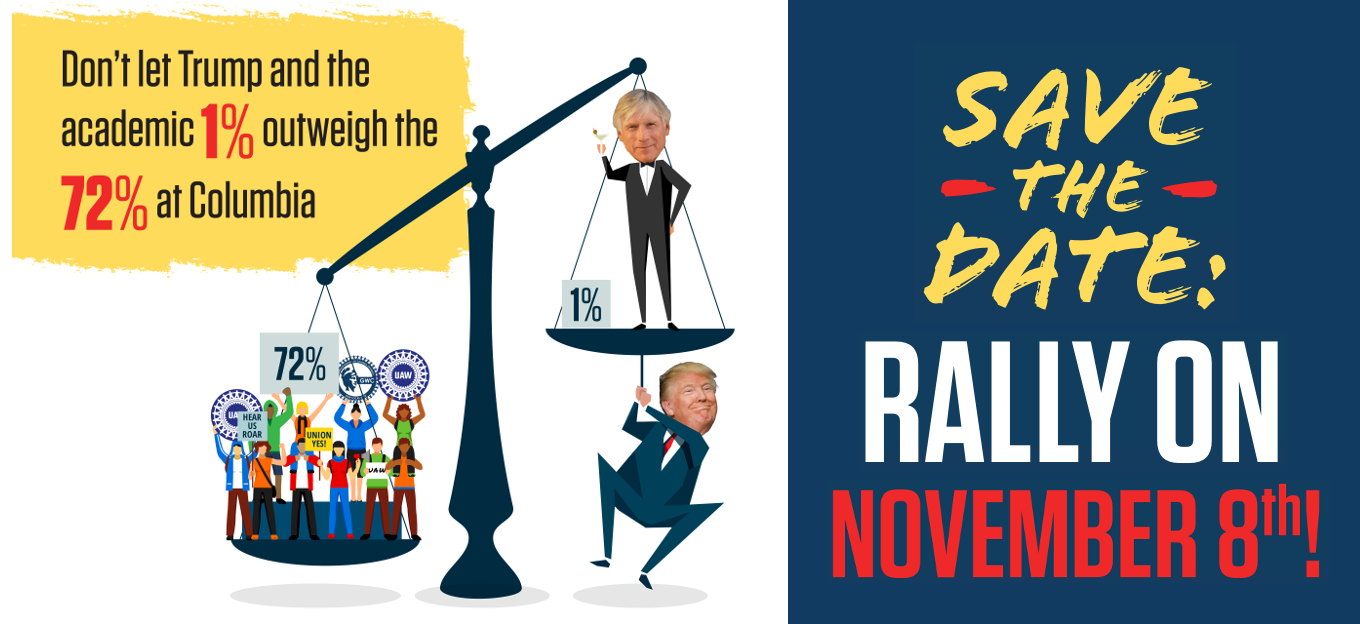 ---
We write with some important mid-semester updates on our campaign to get Columbia to the bargaining table. Support for GWC-UAW, as well as the larger graduate worker union movement nationally, continues to gain momentum. However, it has also become clearer than ever that we will need to increase the pressure on the Columbia administration if we want to convince the University to respect our overwhelming vote in favor of unionization instead of looking to the Trump NLRB for aid in its effort to reverse our union rights.
Other private universities, including NYU, The New School, and Cornell, have agreed to respect their grad workers' votes on unionization. Yet Columbia clearly hopes that delaying will enable the new Trump majority on the National Labor Relations Board to overturn our August 2016 decision and therefore relieve the University of any legal obligation to respect our vote and bargain.
Although the Brooklyn regional NLRB rejected the administration's objections to our election "in their entirety" in March, the administration chose to file an appeal to the Washington, DC, office, the highest level of the Board. The DC Board is comprised of five individuals appointed by the President of the United States, and with President Trump's recent appointments, the board membership is now made up of three Republicans and two Democrats.
Fortunately, because Trump appointee Marvin Kaplan has recused himself from cases involving Columbia University, we still have reason to be optimistic that the NLRB will, at worst, defer to the regional board's decision to uphold our "yes" vote. We hope for a decision on the objections at any time and will update you as soon as the NLRB makes its ruling.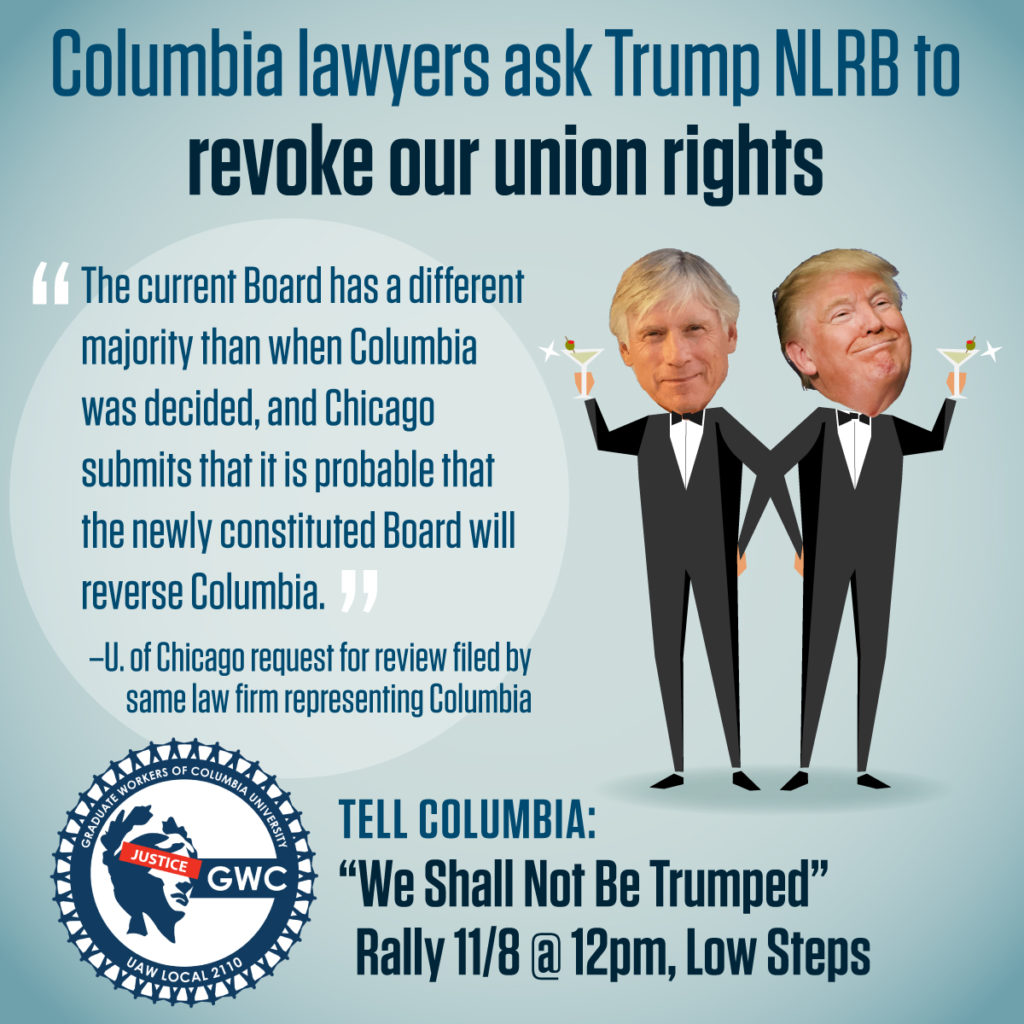 However, there is a significant danger that new majority on the Board could overturn our historic decision in other pending cases on RA/TA unionization. At both Boston College, where graduate workers voted in favor of unionization last month, and at the University of Chicago, where an NLRB election is happening this week, administrators have asked that the DC Board "review" the question of union rights for RAs and TAs. In fact, the Chicago lawyers – the same ones employed by Columbia – say in their recent request, "The current Board has a different majority than when Columbia was decided, and Chicago submits that it is probable that the newly constituted Board will reverse Columbia…"  That's why we've filed a motion in the Boston College and University of Chicago cases, asking that Kaplan recuses himself from any case related to Columbia decision, since his participation could compromise a fair process at the NLRB. If Kaplan means what he says in his recusal from our case, he really should recuse himself from any cases that could affect Columbia, but we are not confident that someone appointed by Donald Trump will see things the way we do.
---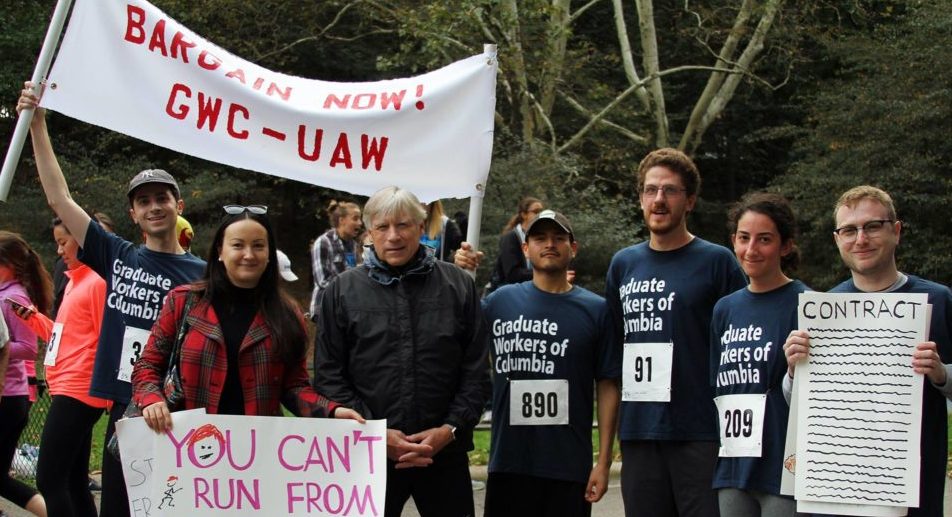 In the meantime, we have continued our campaign to convince Columbia to respect our voice. Thanks to all who attended our Graduate Workers' Rights Forum last month with Congressional and other elected leaders. View highlights from the event here. We also had a great time handing out information and talking to alumni at homecoming, and running in the Fun Run where we were able to chat with President Bollinger.